Up to 8 Daily Alarm Settings
Black Silicone Band with Stainless Steel Buckle
Fits wrist sizes 16cm to 23cm
Black polycarbonate with fiber case (43mm X 48mm)
Stainless Steel Back
Display Time Digits (9.6mm H X 3.87mm W)
Weighs 51.03 grams
Water Resistant
One Year Warranty from product source (excludes battery)
ALL VibraLITE 8 WATCHES have the features below

These VibraLITE vibrating watches are especially suitable for the deaf,
hard of hearing, people with hearing or vision impaired needs, and the blind.
Up to 8 alarms plus Auto Repeat Countdown Timer alerts you as often as needed.
Large digits, User Friendly, Secure Settings.


Vibration, Audible or Both
Securely set in a separate "OPTION MODE"
Text on display shows what option is set
Up to 8 Daily Alarm Settings - Preset for variable reminders
Examples:
7:00 am - wake up
7:30 am - first daily medication
8:20 am - time to leave for work
10:30 am - daily medication due
1:30 pm - daily medication due
3:30 pm - daily medication due
5:00 pm - start dinner
6:30 pm - daily medication due
20 second duration alarm with auto off or can be turned off by pushing any button
Countdown Timer with Auto Repeat Option
For ongoing preset interval timing
Automatically repeats preset time each time countdown reaches zero when set for repeat
Examples: every 2 hours for regular timed medication or every 30 minutes for exercise routines
Every 4 hours for food or medications or every 20 minutes for position changes or every 45 seconds to perform a task
Counts down in hours, minutes and seconds– up to 23 hours and 59 minutes and 59 seconds
5 second duration alarm
Quick reset feature if interruption needed
One button hold for 3 seconds returns countdown to preset time
Records number of repeats (up to 99, then restarts at 0)
Reminder(s) before zero optional - One second reminders at 5 and 10 minutes before zero can be set ON or OFF
Please note: excessive use of vibration feature does reduce battery lifetime
3 Time Zones
Set one for home location, one for travelling to location and one for alternate location time
Minutes as well as hours can be set for each zone
EL Back Light
Stays on while any button is being pushed making it easier to set in the dark
Hourly Alert Option
Short reminder (1 second) every hour on the hour
Text Prompts
Assist in setting and confirmation of settings
Large Digits (9.6mm H X 3.87mm W)
12 or 24 Hour Clock Choice
Use am/pm or 24 hour clock
Stopwatch
Time a function or task up to 23 hours, 59 minutes and 59.99 seconds
Made in China
One year warranty
Download Quick Reference Guide for TTW-VL8A
Download Manual for TTW-VL8A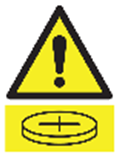 WARNING: THIS PRODUCT CONTAINS A BUTTON OR COIN CELL BATTERY. HAZARDOUS IF SWALLOWED. KEEP AWAY FROM CHILDREN. CAN CAUSE SEVERE OR FATAL INJURIES IN 2 HOURS OR LESS IF SWALLOWED OR PLACED INSIDE ANY PART OF THE BODY. MEDICAL ATTENTION SHOULD BE SOUGHT IMMEDIATELY IF IT IS SUSPECTED THE BATTERY HAS BEEN SWALLOWED OR PLACED INSIDE ANY PART OF THE BODY. IF IT IS SUSPECTED A BUTTON/COIN BATTERY HAS BEEN SWALLOWED OR OTHERWISE PLACED INSIDE ANY PART OF THE BODY, A PERSON SHOULD CONTACT THE AUSTRALIAN POISONS INFORMATION CENTRE ON 13 11 26 IMMEDIATELY FOR 24/7 FAST, EXPERT ADVICE. DISPOSE OF USED BUTTON/COIN BATTERIES IMMEDIATELY. PLACE STICKY TAPE AROUND BOTH SIDES OF THE BATTERY AND DISPOSE OF IT IMMEDIATELY IN AN OUTSIDE BIN, OUT OF REACH OF CHILDREN, OR RECYCLE SAFELY.