Clear Easy to Read Clock - Alzheimer's , Dementia, Visual and Memory Aid Clock
Non Abbreviated Display of Day, Time, Date, Month and Year
Perfect for people with Alzheimer's, Dementia, memory or cognitive impairment
A digital clock with a non abbreviated display of day, date, time, month and year in written text and numerals. Settings can be locked to avoid tampering. The clock is powered by two AA batteries and has eight language functions. It can be positioned on a table or wall mounted. Suitable for people needing assistance with orientation.
Time and date display
Day of week and month display
Large clear easy to read display
Non abbreviated display of Day, Date, Month and Year
8 languages for day and month display (French, English, German, Italian, Spanish, Dutch, Swedish, Polish)
12hr (AM/PM indicator) or 24hr (Military style) display options
Uses 2 Batteries AA (included)
Stand on table or hang on the wall
Fixture hanging hole and table stand on back
Lock function to disable accidental time change
Dimensions (mm) : 280 x 190 x 27
Large Numeric Display (mm) : 190 x 105
Warranty 2 years from product source
Stylish and functional the new VISO10 Large format Easy Read Alzheimer's Clock is now available from TabTimer Reminders™.
The clear, easy to read VISO10 clock, is a useful tool for people living with memory impairment, caused by Alzheimer's, dementia, stroke, or other memory related impairments - as well as a welcome relief for their family and care givers.
People with Alzheimer's, dementia, stroke, or other forms of memory loss, often lose the ability to recall; what day, time of day, month, or what year it is - causing them stress, anxiety and frustrations. Many large format clocks also abbreviate the day and month, shortening words to three characters (i.e. MON or DEC), subsequently confusing some elderly, or baffling cognitively impaired people.
The VISO10 Clock - now available from TabTimer Reminders - is different! It uses full words, in large bold letters, with no confusing abbreviations. The non abbreviated display of DAY, DATE, TIME, MONTH and YEAR are easy to understand, with large bold numerals up to 190mm high. The battery operated VISO10 also has a choice of 8 different languages, can be desk stand or wall mounted, and can be locked to avoid any unintended time changes. At a total size of 280mm x 190mm the VISO10 is clear and easy to read, whilst remaining sleek and modern, to fit practically into any environment.
The VISO10 Alzheimer's Clock is a perfect gift for home, office, schools, aged care facilities, or the reception area of any health care professional – enabling patients and clients to clearly see the day, date and time - providing a stress free, dementia friendly environment. It may even alleviate carers' frustrations who will no longer have to continually repeat the day and time to their loved ones.
Please Note: This clock does not have any alarms, it is merely a visual and memory aid for the day, time, date, month and year.
The clock also has Atomic Clock functionality which is not available in Australia. But works perfectly fine without it.
When used in Europe the clock automatically synchronises daylight saving with the Atomic Clock.
As Australia does not have an Atomic Clock transmitter this feature is not available and needs to be adjusted manually for daylight savings changes.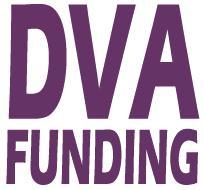 This is a DVA Contracted item click for details