12.1" Digital Calendar Day Clock
Orientation Dementia Clock for Alzheimer's and Memory Impairment. Day Clock, Day Clox
New Model - Has up to 12 alarms per day

Reduce the workload of carers
The Dementia Day Clock is aimed at helping people living with Dementia by simply and clearly displaying the time of day as morning, afternoon, evening or night. People living with Alzheimer's or Dementia can lose the ability to recognise what the time is and even whether it is day or night. This can cause many challenges for them and for their primary carers. By using this digital calendar orientation day clock it can reduce the challenges.
Help people with dementia live in a daily routine
The aim of the day clock is to help people with dementia to be able to link the time of day to their daily routine. The Day Clocks' clear and simple display of Time, Time of Day and Date, has proven to be helpful for people with dementia or Alzheimer's
Application Scenario
The Day Clock can be used in the living room, the bedroom, the study, the kitchen and classroom. It can be standing or wall mounted. The high gloss framing is good looking to suit your home environment perfectly.
8 Languages
The time display and menus can be displayed in one of 8 available languages; English, French, German, Dutch, Italian, Polish, Spanish or Welsh
Time Mode / Date Mode
The time can be displayed in 12 hours or 24 hours format.
The date can be displayed as Month-Date-Year or Date-Month-Year
The Day , Time, Date, Month and Year are all shown , non abbreviated
Additionally, if Advanced mode is selected in the settings, then the time of day will be displayed i.e. Morning, Afternoon, Evening and Night etc.
Time Display; Morning 6am-12pm, Afternoon 12pm-6pm, Evening 6pm-9pm, Night 9pm-12am, Before Dawn 12am-6am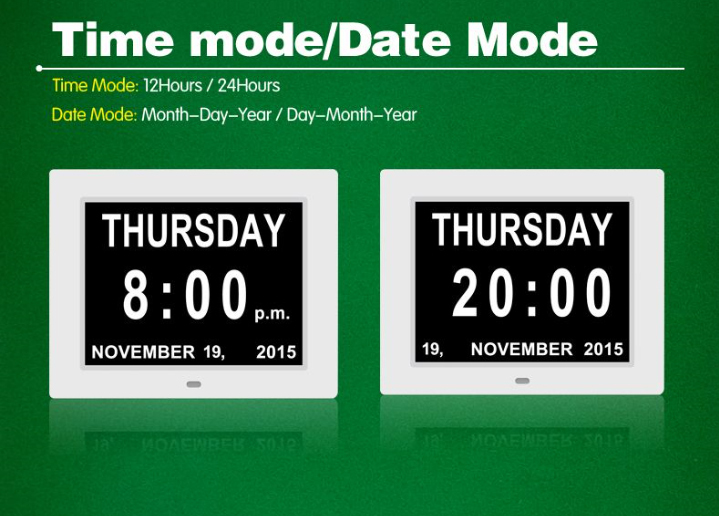 Automatic Brightness
The clock automatically adjusts the display depending on the time of day. 200cd/m2 auto changed brightness; Day mode: 50cd/㎡; Night mode: 10cd/㎡ . You can also set the brightness manually from level 1 to level 5.
Up to 12 Alarms
You can program up to 12 alarms per day. The alarms will repeat daily (or on specific days of the week). The alarms can have one of the following messages on screen at alarm time; Meal, Medicine, Clinic, Shower, Gardening, Cleaning, Appointment and Walk Dog. The user can press any button to stop the alarm.
Features;
12.1 inch LED Backlight Digital Display Clock
Day, Time, Date, Month and Year displayed in full wording - non abbreviated
If advanced mode selected the time of day is shown i.e. Morning etc.
Automatic or manual brightness adjustment
New Model - has up to 12 alarms per day (or on specific days of the week)
Display in one of 8 Languages; English, French, German, Dutch, Italian, Polish, Spanish or Welsh
12 hour or 24 hour time format
Date display format; Date-Month-Year, or Month-Date-Year
Time Display; Morning 6am-12pm, Afternoon 12pm-6pm, Evening 6pm-9pm, Night 9pm-12am, Before Dawn 12am-6am
Resolution 1024 x 600 high definition display
Display Ratio 16:9
No glare within 15 feet
Dimensions 292mm W x 232mm H x 30mm D
Actual screen size ; 245mm W x 185mm H
Approximate dimensions of the characters;

Day characters - 32mm H x 18mm W
Time of Day characters - 22mm H x 15mm W
Time numerals - 55mm H x 28mm W
Date characters - 16mm H x 12mm W

Weight 968g
Electricity operated only. Internal battery retains the clock time in the event of a power failure. However, the clock must be plugged in and powered by electricity to operate.
12V/2A Power Adaptor supplied
Limited warranty 12 months
Made in China