Melbourne Virtual Fair - Support Hive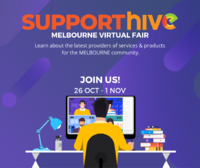 A Virtual Disability Fair for the Melbourne Community where providers can share their product and service through videos, resources, brochures and photos. For support coordinators, LACs, ECEI, parents, carers, families and anyone that would like to know what is available in the Melbourne Community.
Visit TabTimer and other Service Providers at the Melbourne Virtual Fair.
Free registration available at; https://supporthive.com.au/networks/events/41322